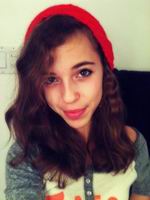 Rising Spring -Anya Dombrovski
Crystalline hope bursts from the ground
in sheer mint covers it is bound;
new buds escape the cracked, iced earth,
awakened by the birds, and ready for rebirth,
naively coaxed by high-pitched calls
they shoot up, shatter frozen walls
of sugared snow, and frigid ice
they savor warmth, they are enticed
by sun's warm, meek and balmy rays,
disrupt the frosty winter glaze.
Yet here remains the winter ghost
shriveled, bent, he guards his post
he grips his throne with claw-like fingers
he breathes chilled mist, his shadow lingers.
Steel skeleton, merciless and unforgiving
he fights the innocent beginning
and whispers curses, brings forth cold
he kills... and yet behold-
his frame is melting, crumbling, fading
he's weakened, and his time is waning,
his power fades, his crown's withdrawn
surrendered to this pure, new dawn.ੲ
Hope. -Jaspreet Bajwa
Is it still there?
When I gaze out of the window
I feel that all of our hopes are gone.
Just two days ago there were beautiful musical
singing voices of lovely birds.
There were baby plants that were
starting to trust the world again.
They were picking their way out of the cold ground.
Trees are dying because
they can't break through the evil snow.
The fear is coming back.
The birds are hiding in the same places.
All of them scared of this white, harsh blanket.
The flowers are shrivelled, dying.
The Hope.
It's gone. Gone is the smooth air.
The air has become too icy to breath.
The leaves are frozen to death.
...............................
There is a reason why
Sikhs hav large bodies.
It's to store their
Extra large hearts.
No community embodies
The mre is mre philosophy
Quite like d Sikhs.
A dance isn't a dance,
It's a bhangra.
A kaali daal tastes
Mre of butter
And less of daal.
And at gurudwaras
Langars feed the poor,
Meal fit fr kings
Fr free.
You dnt hv to be
A Sikh to celebrate
Guru Nanak Gurupurab
All you need is
AN APPETITE FOR LIFE*
Wish u nd ur loved ones a vry warm nd happy Gurupurab!!
A desire in despair' -Sanjiv Sharma
I am not sad,
nothing is making me dismal,
Just introspecting myself
Why can't I win her trust
Where do my efforts
to make her happy
Fell away
Where did I make the mistake,
There are so many questions
Fidgeting me
My love for her is true for sure
Nevertheless of hers
I hope that some day
She will reckon upon me
I will wait for the day
When she will come and
Say me Sanjiv I do love U
n trust u more than myself
when there would be
no restrictions of the family
no society to bound
when nobody can hold us
nothing to make us apart
but the only fear I have
may be I would not be
present to listen her
anymore
somebody must let her know
how much I feel for her
as the time can't be recalled
the guilt I am living with
that I can't win her
will not let me live for long
just I can plead before her
to forgive me
as I could not become her
first priority her love
her craving
but still I am cherishing
an illusion that
she will be mine
some day
some day
irrespective of
that I may be
not in this world anymore

Tourism in Punjab - Jasmin Bajwa


Tourism plays a vital role in the economic development of a country. Tourism is the second largest foreign exchange earner in India. The tourism industry employs a large number of people, both skilled and unskilled. It promotes living standards. Punjab has people visiting from all over the world. Punjab, located in the north west of India, is one of the smallest and the most prosperous states of India. The five rivers Sutlej, Beas, Ravi, Chenab and Jhelum gave its name 'Punj-ab' 'the land of five waters.' These five rivers divide the state into three regions: Majha, Doaba and Malwa.
There are a number of wetlands, bird scanturies and Zoological gardens which you can visit. Like the Hari-ke-pattan- National Wetland & Wildlife Sanctuary in Amritsar which is one of the most important lakes in India. The lake turns into a heaven for nearly 350 species of migratory birds the winter season (November-onwards). Tourist go Bird watching as a number of colourful and exotic birds fly in. It is also one of India's leading in-land sweet water fish market and home of varied wild life which enables the tourist to go fishing or even Boating. The Satluj Water Body Wetland in Ropar shelters a large variety of animals and birds. The wildlife sanctuary also has recreational facilities provided through ample options of water sports like angling, kayaking, canoeing, boating and long distance swimming.
Harminder Sahib (Golden Temple) in Amritsar is a Sikh Gurdwara. The four gates of Harminder Sahib invite people from all directions and all religions. The script read out is unique as well as it contains the divine message received by the saints, bhagats and pirs of all faiths of India. Baisakhi and Diwali are Sikh festivles celebrated by everyone in Harminder Sahib. On Baisakhi all the jewels in the toshakhana (treasury) of the temple are displayed around the Sri Guru Granth Sahib. Diwali of Harimandir Sahib is very memorable as the entire temple is illuminated with traditional lamps of different colour. The reflection of the temple in the shimmering water of the holy pool make a spectacular sight. Fireworks displayed by professionals recreate the glory of the times gone past.
Jallianwala Bagh, near the Golden Temple, this park commemorates those Indians killed or wounded here by the British authorities in 1919. Some of the bullet marks are still visible, as is the Well into which hundreds desperately leapt to avoid the bullets. There's an eternal (24-hour) flame of remembrance. The park also contains the Martyrs' Gallery; a sound-and-light show was being planned at the time of research.
Some Tourists which visit Harminder Sahib in Amristar don't follow the 'rules'. As there are some specific 'rules' like dresses properly, have no alcohol or meat before visiting the holy shrine. These rules are not followed by everyone. Some just try to show dis-respect to the holy place or the religion which is not bared by people who are religious, this then ends in violence between two different communities. Small things like not covering your hair or wearing short pants can lead into a huge fight. To Prevent fights there are 'bhai' (guards) standing in the entrance to make sure that the visitors are dressed properly, sober and following all the Sikh rules. Whoever tries to not follow the 'rules' is then immediately asked to leave the place. The 'guards' make sure that everyone who has entered show respect to the holy shrine.
In my conclusion I would like to say that tourism in Punjab is principally suited for the tourist interested in culture, ancient civilization, and spirituality and history. Punjab has a rich history incorporating Sikhism and Hinduism. Along with the celebrated Punjabi culture, the royal Punjabi palaces, historic battles, shrines, temples and examples of Sikh Architecture.
Den Herbst Kann Kommen! (Jaswinder pal Rath)
Das war`s Mal wieder. Der Sommer 2010 hat sich nun auch kalendarisch verabschiedet. Schluss,aus, vorbei also. Denn jetzt hat der Herbst auch offiziell Einzug gehalten. Die Betonung liegt auf "offiziell". Meteorologisch betrachtet hat der Sommer ja schon lange " ade" gesagt. Böse Zungen behaupten gar, es habe ihn in diesem Jahrüberhaupt nicht gegeben. Und der gefühlte Herbst habe bereits im Wonnemonat Mai eingesetzt.was natürlich maßlos übertrieben ist. Ich erinnere mich nämlich noch ganz genau an diese strahlend schöne Woche Anfang Juni. Die Sonne scheint, der Himmel zeigte sich von seiner blausten Seite-und ich war so euphorisiert, dass ich umgehend eine Familien-Jahreskarte fürs Freibad, einen neuen Grill und eine gemütliche Hängematte erwarb. Das war ein Vergnügen! Zumindest, bis sich besagt Woche ihrem Ende zuneigte. Seither hängt die Matte schlaff in den Seilen, der Grill steht lustlos in der Ecke herum und die Zehnerkarte fürs Hallenbad ist längst abgetackert.Wahrscheinlich werden jetzt die Meteorologen mal wieder einen "guten Sommer" bilanzieren. Das machen die schließlich immer. Wollen uns halt auch nicht die Laune vermiesen. Und wir hatten ja auch unseren Spaß- wenngleich mit Wollpulli und Regenstiefel als ständiger Begleiter. Den lassen wir und selbstredend auch im Herbst nicht verderben.
Herzlichst Ihre.
Jaswinder Pal Singhrath.
Incest: Haryana's shameful social heritage. (Jaswinder pal Rath)
It was a national debate on a news channel. Tempers were running high, so were the decibels. The subject was explosive - Haryana's khaps
and their diktats. In the midst of this charged atmosphere, a voice rose above the rest, silencing them all. Seema, a law graduate and resident of Karora village, made an allegation that changed the course of the debate. Her brother had been executed for marrying a woman from the same gotra, but that was not what Seema wanted to talk about on the primetime show. It was another shameful reality of Haryana villages she wanted to expose - incest. "Khaps should look into their homes before passing fatwas on lovers and crying hoarse about honour. Incest is rampant in the state and virtually every home is affected. Where is the honour anyway?" she screamed. Early this week, the state was shocked when a pregnant girl was strangled by her parents and her body dumped on the outskirts of Bahadurgarh in Jhajjar district. Her crime: she was reportedly having an affair with her brother-in-law and her vengeful elder sister had complained to their parents. In another embarrassing case earlier this year, a farmer in his early 50s developed a sexual relation with his 30-year-old daughter-in-law in a village in Kaithal district. Their liaison continued for almost a year. The matter even reached the village panchayat, which ordered separation of the two unlikely partners so that the woman could go back to her husband. And only last month, Sonepat was jolted by the gruesome murder of two minor girls, just 12 and 14. They were killed and their bodies flung in a canal by their uncles and grandmother after their "affair" with a cousin was exposed. The police said the kin of the victims were enraged when they allegedly caught the minors getting intimate with their cousin. In Yamunanagar, a girl complained to the police that her father-in-law had raped her just a few months after her marriage. These are not isolated incidents: incest is reportedly a real part of life in rural Haryana. "It's a menace nobody wants to talk about. Even the elders are setting a bad example, "says D R Chaudhary, member of the Haryana Administrative Reforms Commission. The elders, predictably, blame this perversion on the growing sway of the west over the state's youth. When Kurukshetra-based Ramesh Kumar's daughter married a close relative, he blamed it on urban influence. Now he is fighting a legal battle to have the marriage declared null and void, terming it a contravention of the provisions of the Hindu Marriage Act, 1955. The mothers of the newly-wed couple were apparently related, being granddaughters of the same person. The incidence of incest may be higher in rural areas. "Social mores in villages are different. People here are very conservative and there is no scope for interaction between men and women and boys and girls outside their homes. So, they often end up having relationships with members of their accessible, extended family, "says Balbir Singh, a social activist in Fatehabad district. Experts believe that such relationships have survived behind closed doors for many years. But given the modern means of communication and the proliferation of the media, the skeletons are now tumbling out of family cupboards. The youth, interestingly, believe that incest is a traditional practice and not a new reality. "Yeh to hame virasat mein mili hai (incest is a part of our tradition), " says Naresh Kumar, a villager in Rohera in Kaithal district. Sociologists, in turn, say that the ethnic history of the region is full of such instances. "In the pre-Independence era, in some parts of north India, the father-in-law almost had the right to physical relations with a daughter-in-law, and in most cases the female was not in a position to resist much. The very young husband also had no say in the matter. Widows would routinely be married to a brother of the dead husband. Sharing of the wife by brothers was also not uncommon, "says Ravinder Kaur, a professor at IIT-Delhi. What adds to this problem in Haryana is its skewed sex ratio caused by rampant female foeticide. "Its effects are now being felt on intimate relationships within and without the family. The shortage of marriageable women can have many unintended consequences, especially when only one out of four men find a bride (as in the case of Haryana) in their own community "adds Kaur. Kumar's 35-year-old nephew, Roshan, is yet to get any offers for marriage. "We are at a loss, wondering what to do, " says Kumar. A growing army of bachelors has become a problem in the state, leading to more illicit relations. Yet, there seems little the government and social organisations can do about this. Haryana has not seen any strong social movement in recent years and there are very few NGOs working on such issues. While a Haryana court was quick (it took three years) to deliver the death penalty to five khap members accused in the sensational murder of Manoj and Babli in March this year, it took a Bhiwani court around five years to give its verdict in a shocking case of incest that surfaced almost a decade ago. In a letter to Bhiwani senior superintendent of police, an 18-year-old girl spoke of how her father and cousin exploited her sexually for seven months. "My father used to rape me. Not only this, my uncle and his son too sexually assaulted me, "stated the girl. "My mother was usually sent to sleep in another house and I was made to sleep with my father. My mother was not aware of all this. When I told my boyfriend and he objected, my father and cousin beat him up and also got a false case registered against him. When I threatened to go to the police, I was locked up, " she wrote in the letter. It was only after the girl said she would tell her mother that she was released from her confinement. The girl then ran away with her boyfriend and a case of abduction was slapped on the boy. Nobody knows where the couple is today. Chilling tales of incest and abuse have been pouring in from all over the state. Inquiries reveal that physical relationship with a husband's brother is not considered 'unusual. ' "Such relations are not objected to. They are considered a family's 'internal affair', "says Prem Singh, a farmer-leader from Kaithal. In a study conducted by the UNICEF in 2001 to gauge the context of abortions involving 83 adolescent girls in the age group of 10 to 19 years in Rohtak district, it was found that incest was a common cause. "It was responsible for pregnancies in 16 per cent of the cases. We have even had cases of girls getting pregnant through their kin, including fathers and brothers, "says Sonia Trikha, who's associated with the UNICEF. Many feel the situation has worsened in the last decade. Leaders of gotra-based khap panchayats blame the law for protecting those who are guilty of incest. "A scheduled caste girl had run away with a boy from her family. Later, they married and even got police protection, "says Badan Singh, leader of the Kalayat khap. Another prominent leader, Om Parkash Dhankar, president of the Dhankhar khap, complains about new social trends: "Illicit relationships are on the rise. Even a Supreme Court ruling spoke of permitting live-in relationship without marriage. "But Seema blames the khaps for shifting the focus from the real problems. "The problem, " she says, "is not of love marriages, or marriages within gotras and villages, but incest. Marrying out of choice is not a crime, incest is. Khap leaders should be addressing the problem of incest and check this evil instead of hounding people who are in love. "
INCEST IN MYTHOLOGY
If you thought Greek tragedies such as Odeipus Rex were embarrassing in their details of incest, our own epics and mythological texts are no less. They, in fact, abound with instances where men and women have conjugated with close kin. For instance, in the Mahabharata, Arjuna was married to Subhadra, the daughter of his aunt Rohini. Then there is the union of Yama with his twin sister Yami;Manu, son of Vivasvat, and his sister Sraddha;Prajapati and his daughter Ushas;Pushan and his sister Surya;Sukra and his three sisters;Satrajita and his 10 sisters;Nahusha and his sister Viraja. Purukutsa's queen Narmada after her husband's death obtained a son through her own brother.
WHY IN RURAL HARYANA?
Skewed sex ratio; 860 girls for 1,000 boys
Very conservative society;girls and women are allowed to speak openly with only close relatives
A large number of girls and women don't work outside their homes
Social resistance to love marriages

Our visit to ``Salz Zeit Reise´´ - Jasmin Bajwa
Deep inside the earth the depth of space and the depth of time overlap. (Thomas Grasberger)
Deep down underneath the 'Salzberg' mountain a secret world awaits your discovery. For many years, only the salt miners in Berchtesgaden were allowed to enter the complex tunnel system. Today, part of the mine - which has been in operation for over 500 years now is open to all fans of adventure who wish to get to know the place where the famous Bad Reichenhall ( germany ) brand salt originates. Salt is an indispensable part of our lives.
Bad Reichenhall which lies in the Bavarian Gmain is one of the most prettiest city in Germany . It is 577 km away from our city city Leipzig. The healing power of nature is a gift that we have learned to use for centuries. Bad Reichenhall also has something which most of the cities don't have , the Alpine and their special home made Salt. We visted a place out there called `` Salz Zeit Reise ´´ ( Salt Time Jouney ) . Before you go on a fascinating journey through time and space of the salt, the miner will welcome you with the traditional miners saying called "Glück Auf!"For the duration of your adventure lasting about an hour in the Salz Zeit Reise underground, a man will be your personal and expert contact for "salt". Before entering each group in the salt mine in Berchtesgaden functional overalls gets pulled over for the protection of their own clothing because it is quite cold in their 0°C.
Everybody was packed in their clothes and was exited for the ride down. We all sat down in a small train which earlier use to take the salt up and down the hill. Before going down a lady the so called photographer took a nice picture of everybody in those dresses for a remembrance. We sat 15 minutes in that train which took us 10 m down . In those 15 minutes I felt as if I were one of these salt diamonds as really enjoyed that small slide . After reaching there it was like as if I reached a paradise down in the earth. The salt diamonds were sparkling our suits were lighting and it was quite cold in there though I didn't have that much of time to think about how cold it was as I was lost in my own thoughts. We walked through a small tunnel and saw many little fascinating things. Of course we had to get down a bit more otherwise it wouldn't be that much interesting , and the way of getting down was quite nice as we had to slide down in the first slide we just reached 5 m down then we walked about 10 m down and again we slid 10 m and the rest we walked down. The Old Salt Works are embedded in the historical heart of the town of Bad Reichenhall. They were built by the King of Bavaria Ludwig I. in 1834 and at their time were an outstanding industrial plant, modern and representative. The historical equipment and the integrated Salt Museum are open to interested parties for walks around with a guide and one can also see some of them also in the mine. The most interesting thing was that before 124 years the workers in the mine carved the name of the second Bavarian King Ludwig II . The carving was fabulous it contained tiny salt bulbs in them which lighted after every minute. Those bulbs still work! Then came the most beautiful part of the day, the ship ride . It might not sound that beautiful as it is. The water so pretty that the salt diamonds reflect on it. If you look on it at once it would look as if the water is so clean that one can the ground below but then if you look up and down ( that is what I did) you can recognize that the upper roof looks the same as the thing in the water . When we got out of the ship we were asked to drink some water as every body was quite thirsty all grabbed a glass of water. After having a sip everybody started to spit it out and shut around as they all realized that it was salt water . The guide stood on one side and was laughing at us. A kid went running to him and asked him for normal water the man answered that you are standing in a salt mine over here you can only get this water if you want normal water you need to wait . Then we started walking towards a big lift which took us about 20 m above . Before getting into the train our guide took out a hat and said `` In this I have little salt packages for each of you but I just want to say that you all will be taking out something from my hat and till I reach the last person it would be empty so if you wish you can also put something in it so that it doesn't feels hat empty .´´ Every body took those packages but only some of them did feel up is hat again.
I think that Salz zeit reise ( Salt Time Journey ) is a nice place and quite interesting . One can learn new things there . So don't wait and visit it .

Poem - jatinder aulakh
a painfull Legend passes through my eyes
I See an lost travler Stumling at night
He is crying with pain and thrust
who is break down his heart
Darkness pervails and no ray of light
Some times he Sway and push by air
his eyes weard bust layer
his life cut off from thread as kite
Noone Can trace his sign of feet
an motionless chill will grab his boady heat .
In search of love he will lost his Life
he always being wanting for Smile
and Sent with mercylessly on exoile
Not a Single word of sympathy will write
at the day break Storm will calm and still
and lost traveler found dead at desert hill
no one mourn at the sight

YOUR REMEBRANCE
I FIND MYSELF AT SOLIDIRTY PLACE
AUTUMN PERVAILED
A CALM WATER POND
THE GREEN WEB BREEZE OVER THE WATER
PROFOUND FLOKE OF TREES
AROUND THE POND
I SIT ON STAIRS OF POND
SAD AND ALONE
PUFF OF COLD AIR GUSHING
YOUR REMEBRANCE
DECENDING IN MY MIND
WHEN WE SAT TOGETHERS
AT THIS PALACE
WE BEND OURSELF IN SWEARED
LONG CHAIN OF PROMICE
WE WRAPED AROUND OURSELF
MOW I MIS YOU
AND SIT IN SECLUTION
MYSELF ARE LOSSING IN GLOOM MOMENT
WHICH WE LEFT BEHIND
WHEN WATER OF POND WAS NEAT
AND WE USED TO WATCH
OUR REFLACTION IN WATER
T CAME TO KNOW THAT
THOSE DELIOUS MOMENT AND YOU
NEVER COME AGAIN
NOW WATER IS DIRTY
INSTEAD NEAT AND TRANQUIL
I WILL HAVE TO COME AT POND
AGAIN AND AGAIN
EVERY MY VISIT
MUST RESULTED IN NEW POEM
EVERY MY POEM IN DADICATION
FOR YOUR GREAT REMBREANCE


Poem - jatinder aulakh
Let me know about my Suffers
where Should go any homeless
where is crying in Street
what is break Inside me
will lonlyness gain me
Let me know
where I gave up all my dreams
and why someone wandring in Search of Death .
Foution falling from hill to Sucide
Who,s the Diety
cursed milky Luminious moon
whole world turned in to Dark Cave
wake the ray of hope
convey me across the Sea
I want to live
give me some Drops of like .
Poem - jatinder aulakh
Do , nt Look Down upon
A Break Hearted lover
He Has been Hunter of Dynasty
Do, nt abuse the clouds
get away without rainaing
Sea Denied them for Drops of water
Never mind If air
pour dust in to your eyes
She is minding her own business
Wandring in endless Search
Clog in the way of stream
is not acceptable
Water in hurry to sucide
and finish Sepration with ocean
Luminious moon is not at fault
How he can give milky rays of light
If Clouds grabbed Sky
Why break Hearted lover guilty
If he had lose his Sence
a fairy got away to take his heart .


City of Casinos Las Vegas USA

By: B.S.Dhillon

In the month of June I took a flight from Texas State of USA to Las Vegas early morning at 6 AM. My original plan was to fly from Texas via Seattle to Vancouver, but a week before my departure American Continental air lines cancelled the direct evening flight from Texas to Vancouver and they automatically re-routed us to a connection via Las Vegas. All's well that ends well From my window of plane I was viewing beautiful hills and streams of America.It were a small plane of United Airlines. It reached Las Vegas in two hours. The time was still of 6AM, because the time zone of Nevada state is two hours behind the Texas. As compared to other Airports, every where on Las Vegas Airport are Casino machines. The weather was gorgeous.
I took a Taxi and reached my Hotel. The driver was also from my Punjabi community. I got a room for 95$. It was on discount. Check-in was very fast and efficient. The hotel was with all the five Star facilities. Wonderful food and prime location. I had a nice room with a view of the pool. The queen size bed was not the best I had ever slept in, but the room features air condition, a TV with mostly American channels, pay TV, and an in-room safe, where you can store your valuables, while running around with your swimwear, your slippers and your white bath robe. The hotel features an indoor and an outdoor pool, which are connected to each other. Pools are open from 7am to 10pm. I took a shower and after my lunch I slept a while. The lunch was excellent. Around noon I took a two hour walk. In the Evening I went to the main City Centre.
Las Vegas was a desert, now gamblers made it a heaven. You cannot describe the beauty of that area with words. The colours, the shapes, everything is out of the ordinary. You have to see it for yourself. iiit is a biggest city of Nevada State. It is called a city of casinos. Desert is a dry place but not without life. It is a busy place filled with life. But it is still a place of extremes. While it may be close to ninety in the mid-day sun it can drop to below freezing in the dark. The animals, plants and people who make it their home have spent thousands of years learning to adapt and live together. Instead those who chose to live there had to learn to live with what the land gave them. Gambling here was legalized in 1931. There are 500 Casino companies operating electronic machines in Las Vegas. Now big companies of Las Vegas have facility for online Casino gambling. In India too now casinos have started like Las Vegas. Many casinos have come up in last years. Gambling has been illegal in India, by law. But To promote tourism Casinos have been started in Goa. One is named after Las Vegas 'Las Vegas- The gaming club',
There is enough greenery in the city. It is desert land so summer and winters are like my state of Punjab in India. Divorce is very easy in Las Vegas. You can get divorce in a day. With a population of two million this city is enlightened daily like America day. Visitors from all over world come here. It is a city where you can become millionaire or beggar in a night. In the university there are gambling faculties. A guide was telling me now Macao City of china is number one for casinos, earlier it was Las Vegas. A company named Las Vegas Sands is operating now from Macao also. Once socialist china is now learning gambling from America. The hookers were every where out side casinos and lot of police; Gambling is directly connected with crime. In Indian mythology, one emperor had gambled his empress. Las Vegas is nothing like the new-money facades of the Strip. North Las Vegas is run-down and haunted by vagrants and mid-day drunks. It is the last place in America where freedom is truly free.
When I reached Las Vegas that there was a fair of twins. All the twins with similar faces came therein similar dresses. I enjoyed for two days and two nights in Las Vegas and from there I proceeded for Vancouver. In the plane I was remembering my family back in my Town Absence makes the heart grow fonder. This homeless fate is maybe not so bad. When you leave what's not important behind, when you have no gardens to tend and few belongings, when you have no music, no entertainment and all that is left is you and your life partner, then the idea of home really strikes you. The more you gather, sometimes, the less you remember that home is really an ongoing conversation with family than a residential place. On next evening it was time to pack my suitcase and head home. I enjoyed the delicious snacks with coffee at the bar, paid the bill and then checked out of the hotel at 6pm. Thereafter I took a taxi and arrived at airport for my further journey to Vancouver.
B. S. Dhillon
Advocate High Court

Germans rediscover sense of patriotism (JaswinderPal SinghRath Heidelberg).
As Germany celebrates 60 years as a democracy and the 20th anniversary of the fall of the Berlin Wall, Germans are rediscovering a sense of patriotism and are no longer ashamed to wave their flag and sing the national anthem. They are even daring to discuss bringing back a bravery medal, unthinkable a decade ago in a country which rejected militarism and turned fiercely pacifist. This year, after six decades atoning for the crimes of the Nazis, a non-aggressive self confidence, also evident in a more assertive foreign policy, is increasingly manifesting itself as Germany. "The German soul, bruised and discredited by the Nazi era, has to a large degree been healed, "said Eugen Buss, a sociology professor at the University of Hohenheim. "We're seeing a normalisation, "he told. Buss was a consultant for a recent study on German identity, published before celebrations for the constitution's 60th birthday get going this month with street parties and public events. The study, carried out by the Identity Foundation in Düsseldorf, showed twice as many Germans were "very proud" to be German as eight years ago, said Buss. Almost 73 percent think they should show more confidence about being German. The experience of managing a successful democracy and economy have taught both eastern and western Germans they are entitled to feelings other than shame about the past, said Buss. The nation startled itself during the 2006 soccer World Cup tournament, when millions of people painted flags on their faces, wearing red, gold and black hats and chanting the national anthem. Younger generations seem to be particularly relaxed. "I'm not ashamed of being German -- maybe my parents or grandparents were because they were closer to the National Socialist era," said Nina Krause, a 14-year-old student in a group visiting Berlin's German Historical Museum. "To me, being German means I am comfortable and have the chance to have a good future," she said. The museum, which attracts 50,000 visitors a month, opened its permanent exhibition on German history just three years ago. It starts in 9 A.D. with the battle of Teutoburg Forest when German tribesmen defeated the Romans and stopped Germania beyond the river Rhine becoming part of the Roman Empire. Exhibits include a cavalry mask from that battle, a giant globe that sat in Hitler's office with a bullet hole through Germany -- probably inflicted by a Soviet soldier -- and a section of the Berlin Wall. The most popular exhibit, however, is a large changing map of Europe which shows how borders have emerged and disappeared over 2,000 years, says the museum's Director Hans Otto Meyer. After World War Two defeat and the realisation that millions of Germans took part in or knew about Nazi atrocities, a collective sense of shame weighed on Germans for decades. Former West German President Gustav Heinemann summed up Germans' inability to feel an emotional tie to Germany in 1969 when he said: "I don't love the state, I love my wife." The country's post-war division into military occupation zones, aimed at reining in expansionist aims, and the Allies' insistence on approving West Germany's 1949 constitution were a warning to Germany not to show too much muscle. But recently, Germans have helped themselves by adopting a more mature attitude towards the past, say historians. "History was a burden. It used to mean the 12-year Nazi era but now we have a much broader understanding. I can't keep up with all the books and documentaries, "Otto Meyer told. Bookshops have in recent years reported a surge in sales of history books from a variety of eras, such as the time of the kingdom of Prussia and the Middle Ages which, academics say, makes for a more balanced outlook on life. Germans' commitment to Europe also defines their psyche. After 1945, politicians embraced the European project as a way to ground the country's new political system: public support for the EU still runs deep. The conviction about Europe has a profound effect on German lawmakers, who traditionally avoid showdowns with Brussels. But governments are starting to take a more assertive stance in the EU -- take Chancellor Angela Merkel's strong defence of the car industry and her own response to the financial crisis. Finance Minister Peer Steinbrueck has even risked drawing the wrath of European neighbours including Switzerland and Luxembourg by attacking their bank secrecy rules. To reflect this, the museum's Otto Meyer has given a broad focus to his German history exhibition, which embraces the country's European heritage. Exhibits include Napoleon's hat from the battle of Waterloo, mementos of the Portuguese empire and a Turkish tent from the 1683 siege of Vienna. "The best we have experienced has been European and the worst was national hatred and national superiority, "he said. This does not mean interest in the Nazi era is diminishing: "Young people are fascinated by the Nazi era as it poses the question of existential evil, "said Otto Meyer. Television channels broadcast hours of documentaries on aspects of Hitler's rule every week, and the Third Reich section of the Historical Museum is still the most comprehensive. According to the Identity Foundation survey, Germans see themselves as a nation of poets and philosophers in the tradition of Goethe and Schiller, liking rules and "ordnung" and -- increasingly -- having strong democratic tendencies. That is striking given Germany had a relatively short tradition of democracy before Hitler's rise to power in 1933 compared with countries like Britain and France. National identity is also deeply rooted in regional customs, said Buss, noting that citizens in the former communist East and western states alike shared the newfound patriotism, alongside a strong conviction that they belonged together as one nation. Bavarians are proud of the Oktoberfest beer festival and lederhosen. Swabians love their distinctive, at times unintelligible, dialect and thrifty lifestyle, and Rheinlander's live for their annual carnival processions and sweet wine. "Yet they all feel German, "said Buss. However, there are limits to the newfound pride. While Germans feel close to the fatherland, they lack a sense of duty towards it, said Buss, noting that only 14 percent of Germans are prepared to die for their country, far fewer than in such countries as the United States and Britain. And while Germans want their politicians to be more assertive, they are still nervous about flexing military muscle. Immigrant communities say one of the main reasons for integration problems is Germans' lack of self confidence and a fear of diluting their own culture. Turks in Berlin staged a show of unity with Germany in the 2006 World Cup by wrapping themselves in the red, gold and black flag and honking car horns after German victories. "Turks helped Germans celebrate and gain self-confidence, "said Kenan Kolat, head of the Ditib Turkish-Islamic Union. "If a country is self-assured, it can have a more open attitude. I hope the new self-confidence among Germans will lead to a greater openness towards other cultures, "he told.
Genocides of struggling nations
Indian state is back bone of Genocide War of Tamils in Sri Lanka
By SURJIT SINGH GOPIPUR
Last week, a high level convention on genocide war of Tamils in Sri Lanka was held at constitution club (New Delhi) by revolutionary democratic front and Delhi Tamil students union that has provided the stage for struggling nations of Indian subcontinent to raise their demand of self determination and autonomy in their home lands. This convention realized that all these struggling nations like Sikhs, Tamils, Kashmiris, Nagas, Assames etc. should go with unity.
Tamils are one of the nation among these which is struggling since many decades. The war against LTTE by the Sri Lankan government is the burning issue of this time. In this genocide war, not only the Sri Lankan government is accused but Indian state is also accused equally. This convention also opposed the continuing devious involvement of the Indian government.
Amidst the continuing claim of the Sri lankan government that "The war against LTTE has entered the final stage" what is clear till date is far from the "reality picture" carefully 'filtered' and 'sanitized' by the former to be produced before the International Community. Notwithstanding the tall claims, the war has reached this "final stage" after the slaughter of almost half the population of Sri Lankan Tamils. Today the so-called 'no war zones' are virtual concentration camps where the starving Tamil population is being held within barbed fences under the cross hairs of the military to build international opinion in favour of the murderous campaign of the Sri Lankan government. These camps are supposedly the 'human face' of the Sri Lankan war machine.
There is not a single person who has not lost a family member, not a family that has not been displaced from their homes. In fact they have been displaced several times over. Their homelands came under heavy aerial attack in 2007 when Sri Lankan government unilaterally withdrew ceasefire and started its war ostensibly to annihilate the LTTE. People were forced to leave their homes and take shelters in the various camps. Schools, hospitals and now the so called "no-fire-zones" too are not being spared by the murderous Sri Lankan government. Some independent reports confirm that the recent phase of war itself has perished around 7000 Tamils. After 2 years the war still continues, violating UN resolutions and committing the worst genocide of our contemporary times.
The recent attack on April 06 of this year on the Tamil people has reached catastrophic proportions. Some independent reports fear that the Sri Lankan army used deadly chemical weapons, poisonous gas and thermo baric bombs-a bomb that uses a fuel-air explosive capable creating overpressure equal to an atomic bomb in the war zone that can kill thousands of people. This information is to be verified by the international community. But the Sri Lankan government is not allowing the journalists and independent international agencies to report from the Tamil areas. In this regard the people's Union for Civil Liberties (PUCL) also has come out with a statement expressing their anguish.
The suspected use of chemical weapons and nerve gas and flamethrower weapons reminds one of the days of the Auschwitz where the Nazis butchered countless number of people. The International Conventions have strictly prohibited such use of weapons and poisonous gases resulting in gruesome mass killings of combatants and civilians. It has also been reported that the Sri Lankan army is using cluster bombs which are banned in almost 93 countries. And to escape from indictment on many counts from the international community against the use of prohibited weapons to human rights abuses, the Sri Lankan Government systematically keeps international media and foreign aid workers out of the war scene. According to UN 1948 Genocide convention, many of these acts clearly constitute as genocide and Sri Lankan state deserves to be termed as a war criminal and brought before the world court, if an investigation by a competent International Team is held and such blatant criminal acts are confirmed.
The day before witnessed the Sri Lankan Government pretending to refrain from using heavy weapons at the present stage of the war. This is a hard lie as the three prong attack of the desperate Sri Lankan internationally to claim their much awaited victory.

India is the back bone this war and has extended material, intelligence and political support to the chauvinist Sri Lankan state. India's position on Sri Lanka has always catered to the interests of the Sri Lankan rulers due to the geo-political importance of Sri Lanka in the Indian Ocean. In turn, Sri Lanka had always been ambivalent/non-committal to the interests of Indian rulers. Hence the Indian rulers for a brief time supported the Tamil militant movement (for their own interest). Later they switched back to their original position after diluting and disarming most of the movements and sending troops to annihilate the only remaining force-the LTTE after the 1987 Indo-Sri Lanka accord. This covert support to Sri Lanka became an open partnership in the period after the death of Rajiv Gandhi.
In this light the statement of Shiv Shankar Menon, "Sri Lanka and India has never been so warm, so close, and so deep," puts in nut shell the present Indo-Lankan relations. India had provided Sri Lanka with radars, intelligence inputs, arms training and now with its own troops. Worst, doing all this while talking about saving the lives of innocent Tamils in Sri Lanka. India has not only been a partner in killing thousands of Tamils in the north of Sri Lanka but did not even condemn the killings of journalists both Tamil and Sinhalese, illegal detentions and torture, media censorship and the dictatorial rule of the SLFP regime.
In Tamil Nadu, with the parliamentary elections at the anvil, one can see all the political parties trying to outsmart the other in their lip service to stop the war in Sri Lanka. The fact of matter is that none these parties are really interested in counting on their votes over the dead bodies of the Tamil people in Sri Lanka. It is for any to see through this devious politics as any concrete intervention from India can see an immediate end to this genocide of the Tamil people.
In this context the continuous covert and overt support of Indian state to Sri Lankan government is condemnable and is against the overall peace and stability in the sub-continent which it claims to be committed to. We call upon the democratic and freedom loving people of the subcontinent to raise their voice in protest against the fascist designs of the Sri Lankan government and the overt and covert support of India in this murderous deed.
Only a people who can determine their own sovereign future without being coerced, mistreated, discriminated or oppressed can bring a lasting and just solution to the spectre of war and genocide that is beholding the subcontinent.
ssgopipur@gmail.com

Analyse: Indien vor Wahl der Superlative. Jaswinder pal Singh Rath.
Als Manmohan Singh vor fünf Jahren als Premierminister Indiens vereidigt wurde, war er nur Ersatzkandidat. Die Chefin der Kongress-Partei, die italienisch-stämmige Sonia Gandhi, hatte den Finanzexperten nach ihrem Amtsverzicht als Alternative aus dem Hut gezaubert. Doch das Tandem aus Singh, der die Regierungsgeschäfte führte, und Gandhi, die im Hintergrund die Strippen zog und die fragile Koalition zusammenhielt, hat sich für den Kongress bewährt. Mit Singh als Spitzenkandidaten und Gandhi als Parteichefin geht die Partei vom 16. April an in die Parlamentswahl - bei der kaum jemand eine Prognose über den Ausgang wagt. Deutlich ist allerdings schon jetzt: Es wird eine Wahl der Superlative.Über 714 Millionen Menschen in der bevölkerungsreichsten Demokratie der Welt sind zur Stimmabgabe aufgerufen, mehr als je zuvor. Aus organisatorischen und aus Sicherheitsgründen erstrecken sich die fünf Wahltage bis zum 13. Mai, drei Tage später wird das Ergebnis verkündet. Wichtigster Gegner der Kongress-Geführten Vereinten Fortschrittsallianz (UPA) ist die National-Demokratische Allianz (NDA), an deren Spitze die hindu-nationalistische BJP steht. Die Abstimmung wird auch eine Wahl zwischen Senioren: Für die BJP geht der 81-jährige L.K. Advani ins Rennen. Advani, der bis zur Wahlniederlage der BJP 2004 Innenminister und Vize-Regierungschef war, ist fünf Jahre alter als Manmohan Singh.Singh kann auf einige Erfolge verweisen. Sein größter außenpolitischer Coup war das Abkommen mit den USA über zivile nukleare Zusammenarbeit, das die 30-jährige internationale Isolation der Atommacht Indien im Nuklearbereich im vergangenen Herbst beendete. Singh boxte den "Nuclear Deal", den besonders die Kommunisten und die BJP torpedierten, gegen alle Widerstände durch. Der Premierminister führte die aufstrebende Regionalmacht in den Kreis wichtiger Nationen ein und stärkte Indiens Selbstbewusstsein. Die Wirtschaft wuchs deutlich, die Finanzkrise hat Indien weniger hart getroffen als westliche Staaten. Der Friedensprozess mit Pakistan schritt voran - zumindest bis vergangenen November.Dann kam es zu jenem traumatischen Ereignis, das die Nation bis heute erschüttert: Den Terrordrama von Mumbai (Bombay), bei dem mutmaßlich aus Pakistan stammende Angreifer die Finanzmetropole drei Tage lang in Angst und Schrecken versetzten. Mehr als 170 Menschen starben. Indien legte zwar den Friedensprozess mit Pakistan auf Eis. Doch Singhs Regierung reagierte insgesamt besonnen und setzte auf Diplomatie, statt den Rufen nach Vergeltung Gehör zu schenken. Eine gemischte Bilanz hat Singh allerdings bei der Armutsbekämpfung vorzuweisen. Trotz gigantischer Hilfsprogramme, die zumindest teilweise versandeten, leben immer noch knapp ein Viertel der 1,1 Milliarden Inder unterhalb der Armutsgrenze.Den Wahl entscheidenden "aam aadmi", wie der vor allem auf dem Land lebende "einfache Mann" auf Hindi genannt wird, umwerben der Kongress ebenso wie die BJP mit Versprechen. Dieser einfache Mann ist allerdings auch Zielgruppe der von Kommunisten und Regionalparteien unterstützten Dritten Front. Sie könnte von einem möglichen Patt zwischen UPA und NDA profitieren und mit der Politikerin Mayawati punkten. Mayawati wird besonders von Dalits verehrt, den früher als "unberührbar" diskriminierten Indern. Der derzeitige Ministerpräsident des größten indischen Bundesstaates Uttar Pradesh ist umstritten, gewinnt aber zunehmend an
Popularität.Ob Manmohan Singh, dessen Gesundheit angeschlagen ist, im Falle eines Wahlsiegs seiner Kongress-Partei und ihres UPA-Bündnisses die gesamte Legislaturperiode über im Amt bliebe, ist ungewiss. Als wahrscheinlich gilt, dass mit Sonia Gandhis 39-jährigem Sohn Rahul Gandhi in absehbarer Zeit wieder ein Sprössling der mächtigen Nehru-Gandhi-Dynastie das Land führen soll. Rahul habe "eine Mission", sagt ein westlicher Diplomat. "Der ist in der Pipeline."

Nishan-e-Sikhi tower - A ray of hope for youth
Varinder Walia

Khadur Sahib: Keeping in view the falling standards of education in Punjab and loss of life values elsewhere, the Nishan-e-Sikhi Charitable Trust under the patronage of the Baba Sewa Singh Kaar Sewa, Khadoor Sahib, thought out to provide attractive venues to students, teachers, preachers, professionals, sports people and the general public in the walk of life.
The Nishan-e-Sikhi tower under construction is in a four-acre land and is financially supported with donations by Thakral family and Sikh sangat. It will provide a bouquet of religious education, spiritual awareness, cultural understanding, historic information, vocational knowledge, national cohesion and entertainment options.
The exhibits and contents already prepared for museum and other directorates will be interesting and of great educative value in multiple fields to the competitors, researchers and other visitors.
In all, there will be eight directorates in the eight-story tower. A team of professionals is on the job to turn the projects into reality. The directorates will include Multimedia Sikh Museum, Training Institute for IAS, IPS and IFS; Olympic Training Institute For Sports, Bilingual Sikh Preachers Training Institute, Drug Therapist Training Institute, Environment Institute, Digital Library, and Play and Learn Institute for Children. All the directorates will be equipped with latest technology of the world so that youth could compete in the fast moving world.
Encouraged with the successful adventure of building up the future of progeny, it was further planned to erect the multi-storey educational centre with the name "Nishan-e-Sikhi" to prepare and help the youth in the different fields to compete in the fast moving world.
Khadoor Sahib is sanctified town now in district Tarn Taran. It was visited by eight Sikh Gurus. Gurmukhi alphabet was modified here by Guru Angad Dev who opened the first school of Gurmukhi lipi and started a planned campaign against drugs at this place.
To enhance the educational vision, Guru Angad Dev Multimedia Sikh Museum, first of its kind in the world, was set up by Dr Raghbir Singh Bains, social activist of Canada, at Khadur Sahib during the fifth centennial celebrations of the parkash utsav of Guru Angad Dev in 2004. Robotic and touch screen technology was used to educate masses about the Sikh religion, history, culture, philosophy and the Sikh way of life.
The projects scheduled for the Nishan-e-Sikhi tower have been planned very carefully and are expected to provide resources for educationists, learners and professionals to help better plan for the future of education in enhancing the job orientation and life values.
Dr Raghbir Singh Bains
Author: Encyclopaedia of Sikhism
Producer-Director:
Multimedia Sikh Museum
#8-8918, Street-128, Surrey, B.C., Canada, V3V 5M7, Tel: +604-599-1314

Bollywood Star Priyanka Chopra
Visits Ferragamo Boutique in Mumbai
Bollywood star Priyanka Chopra was invited to visit Salvatore
Ferragamo Headquarter in Florence on 2nd March, where she received
inimitable VIP treatment, once reserved for Hollywood stars in another
era. Leonardo Ferragamo, CEO of Palazzo Feroni Finanziaria S.p.A., the
Ferragamo Family's holding company, welcomed and guided her through
the Ferragamo museum where precious shoe lasts of famous celebrities
and original creations of founder Salvatore Ferragamo are exhibited.
Priyanka Chopra was also treated the honor of having a pair of shoes
made-to-order to her liking. She had her feet measured by expert
technician specializes in wooden last and spoke to the shoe designer
about the shoes of her dream.
Following her visit to Florence, initial shoe design sketches and the
wooden shoe last signed by Priyanka Chopra and Leonardo Ferragamo were
presented to Priyanka Chopra at the Salvatore Ferragamo store at
Galleria, Trident, Mumbai, on 17th March. Among the different shoe
designs, Priyanka Chopra selected the evening sandal with rhinestone
crusted 13cm heel and platform. The design sketch will later be
realized in the colour and material of her choice.
This was followed by the unveiling of L'Officiel March 09 issue, which
features the actress in Salvatore Ferragamo Spring-Summer 2009
collection on the cover and 16-page inside fashion spread, shot in
Ferragamo's XV century property, Villa Le Rose.
SONG FOR A PALESTINIAN CHILD
*******************************************
woman of extraordinary courage
Sarojini Naidu's death anniversary falls on 2 March. RK BHATNAGAR pays his respects to this many-faceted genius
It was Mahatma Gandhi who called Sarojini Naidu the "Nightingale of India" (Bharat Kokila) for sheer variety of theme, range of feelings, colour and rhythm, fancy and conceit, metaphor and similes.
Historians on the other hand described her as a woman of extraordinary courage, an exceedingly lovable human being, a tower of strength, an inspired orator.
Sarojini Naidu was born on 13 February, 1879 in a Bengali family settled in Hyderabad. She inherited her poetic temperament and love for beauty from her mother Sundari Devi and learnt the lessons of tolerance, communal harmony and appreciation of composite culture from her father Aghornath Chattopadhyaya.
She passed her matriculation examination from Madras in 1891 at the age of 12. After a break of three years, she resumed her studies at King's College, London. Her ill health, however, compelled her to discontinue studies and in 1895 she returned home.
She had started writing poetry at a fairly early age. By the time she celebrated her 14th birthday, her outlook of life had already become much more serious and mature. In her own words: "My joys were not what joys to childhood seem: Not on unthinking sports my soul was fed. But nursed it was on many a brighter theme, and lofty high ideas formed my radiant dream."
Sarojini Naidu's first highly acclaimed poetic collection The Golden Threshold was published in 1905. For the next 12 years, she continued to write poetry of great charm. In 1912, the second volume of her verse, The Bird of Time appeared. The third volume ~ The Broken Wings followed in 1917 where after her poetic career came almost to a halt as she joined the freedom movement. She no doubt staged a comeback to poetry nearly after a decade when she wrote The Feather of the Dawn.
The credit goes to Sarojini Naidu for the growth of the women's movement in India parallel to the freedom struggle. Before she became the first woman president of the Indian National Congress in 1925, she toured extensively and inspired women everywhere: She played a major role for the voting rights of women and after a long struggle got it.
There were a large number of women's organisations in India. They needed to be amalgamated and united. The All India Women's Conference came into existence in October 1926 and Sarojini Naidu became its friend, philosopher and guide. From 1928 onwards, this organisation more or less took complete charge of women's emancipation.
Among many other subjects in which she took keen interest was the problem of indentured labour. She fought hard against "Coolie-ism" in white colonies and the plight of Indian women in South Africa. Finally indentured labour was abolished and she played no small part in its abolition. She was at her best in humour.
Robert Bernay, author of The Naked Fakir, went to see Gandhiji and met Sarojini Naidu for the first time. She asked him: "You want to see the little man?" Talking to him on another occasion she said: "I have got my toothbrush already packed for my journey back to prison."
In December 1925, as Congress president, she had to devote much of her time to party work. In 1928, Sarojini Naidu sailed for the USA and had a triumphant tour as Gandhiji's representative.
In 1929, she presided over the East African Indian Congress in Mombassa and also addressed the gatherings of Indians all over South Africa. On her return to India, Sarojini Naidu participated in the first roundtable conference to discuss the demand for full dominion status.
At the session of the Congress in Bombay in December 1915, she recited the following verse: "Waken, O mother! thy children implore thee,/ Who kneel in the presence to serve and adore thee!/ The night is aflush with a dream of the morrow,/ Why still dost thou sleep in the bondage of sorrow?/ Awaken and serve the woes that enthrall us,/ And hallow our hands for the triumphs that call us! Are we not thine, O Belov'd, to inherit,/ The manifold pride and power of thy spirit?/ Ne'er shall we fail thee, forsake thee or falter,/ Whose hearts are thy home and they shield and thine after,/ Lo, we would thrill the high stars with thy story,/ And set thee again in the forefront of glory."
As the years rolled by, she moved from scene to scene. She was at the peak of her career when she presided over the Asian Relations Conference in Delhi in March 1947, just months before India attained independence. She was now the chosen leader of Asia, not of India only. Sarojini Naidu welcomed the delegates from various countries of Asia and hoped for the emergence of a strong and peace-loving Asia.
On the eve of independence, Jawaharlal Nehru requested Sarojini Naidu to be the Governor of Uttar Pradesh. She was at first unwilling to accept the responsibility but later accepted it on Mahatma Gandhi's advice. Sarojini Naidu with her rich cultural background, political maturity and immense popularity among all sections of the Indian society was ideally suited to be the first Governor of Uttar Pradesh in independent India.
The assassination of Mahatma Gandhi in 1948 was a great blow to her. She felt shattered. Her heart grew weak and on 2 March, 1949, she breathed her last.
Sarojini Naidu's own epitaph expresses her philosophy of death as under: "Need you another Tribute for a token who reft from me the pride of all my years, Lo I will leave you unspoken Shrine to dead dreams; O, temple of my tears."
A memorial stands now on the banks of the Gomti river in Lucknow.
(The author is a former Press Secretary to the President of India)


-------------------------------------------------
I am a Palestinian child. I am a Palestinian child.
People think, I am meek and mild.
I was born in the midst of fire,
Coffin on the body is my attire;
I can face everything, dark and dire,
The time fails to sink me in its mire.
I am a Palestinian child. I am a Palestinian child.
People think, I am meek and mild.
Always ready for bullets is my chest,
The bombs can never dampen my zest;
My blood is meant for my country's best,
Only in the grave, I shall take my rest.
I am a Palestinian child. I am a Palestinian child
People think, I am meek and mild.
I aspire for peace , have love for all,
I want to demolish the religion's wall;
When the world is weeping on my fall,
I must also try to rise high and tall .
I am a Palestinian child. I am a Palestinian child
People think, I am meek and mild.
Playing with death, is my ordinary game,
For me , earth and sky are all the same;
I am a violent storm, no power can tame,
My enemy will suffer a lasting shame.
I am a Palestinian child. I am a Palestinian child .
People think, I am meek and mild.
Desire for freedom makes me wild,
I am a Palestinian child. I am a Palestinian child
*************************************************
Dr. Mustafa Kamal Sherwani
All India Muslim Forum
Lucknow , U.P. India

Impact of climate Change in the word of farmers in Tamil Nadu
Monsoon on Strike? Mangoes in November ?? (kabir Arora)
A letter by one of my young friend from east coast of India in Tamilnadu, who wants to remain anonymous.....
The word "mango", is almost synonymous with "summer" for the inhabitants of the coast of Tamilnadu. The scorching hot sun above, and a spoonful of fresh mango pulp in the mouth are typical to a Tamilnadu summer. This year though is a very different story, a sudden downpour ruined the mango harvest and practically no mangoes were seen in the generally overflowing "bazaars". The air was full of of strange surprise, because all the hopes of mango eaters were about to be shattered. Eventually the situation became clear, there would be no mangoes! Unfortunately the tragedy was not over, since not only were mango enthusiasts affected, but the whole of the farming community. A horrifying 500 acres of crops were destroyed, leaving the locals farmers devastated. Now the whole mango issue seems so trivial! Does this seemingly unimportant event hint at a far greater catastrophe?
The coming of the monsoon characterizes the end of the month of October. Torrential rains and frequent thunder storms are the heralds for the wet month of November, when the fields are sown and the the saplings planted. Rains at the right time are crucial to agriculture and farming, and are therefore anxiously awaited. They are fundamental elements in the sustenance of the bio-diversity that is abundant on the coasts of Tamilnadu. The whole ecosystem needs to be replenished by the water from the north-eastern monsoon. For humans, the dependence to a timely monsoon is evident. It marks an important phase in the everyday life of all farmers. The rains are an indication to start the sowing of crops that demand great quantities of water. In general, the monsoon is the best time to go outdoors and do some planting. Whether it is planting a lime tree in your backyard, or sowing your 100 acre field, the monsoon is the key to having a fruitful result and a bountiful harvest. We are now half way through November, and it doesn't seem likely that there will be a monsoon. Time only shall reveal the gravity of the climatic disorder.
--
If the stars fade out of the sky
and from the forest birds fly off
if dreams do not return to the field of sleep
who would understand your naturalness
and see through your painted mask
You are poet
So all your sins be forgiven.
Hunger you may not overcome
but surely you can touch a heart
even pierce it
You may make a crowned heads shiver
you can play with words
rub them and make them glitter
like a seasoned goldsmith
sick of your poems
you may well burn them
and conceal your failures
You are a poet
So all your sins will be forgiven.

pic of Rajiv Gandhi and Sonia . they are eating ice cream
Ashlesha nahee….Roshni hi chahiye
Roshni Chopra makes a comeback in the show
Zee TV' s Kasamh Se team gets Roshni Chopra urf Pia back in the show. She makes a comeback after a good six months in real life but…. in reel life its sixteen years. Just six months and she found the entire set up so different that she couldn't even connect with her costars. Her comeback wasn't as smooth as Ashwini Kalsekar's but a real challenge in the story line. This time it's not only Pia who is back in Kasamh Se but Pia mummy returns from US with two grown up sons.
Interesting trivia that took place a couple of days back was that the production house went ahead and shot Pia's comeback in the show with Ashlesha Sawant (Tara of Saath Phere fame) the very same day they signed her. The channel certainly didn't give-up to their choice and demanded original Pia i.e. Roshni Chopra. The character has a face in front of the audience and replacing her with another female actor might not do justice with the character. Ashlesha is very upset with the entire episode but has no choice.
Talking on her comeback, Roshni says, "It was a good break from saas bahu soaps but I am excited to make a come back in Kasamh Se. The story demands Pia's re-entry and I was more than happy to be a part of this show once again. However I'll be only shooting for a week or so and flying off to London to shoot for Vikram Bhatt's film Phir."
The episode marking her return will air on 20th October at 9pm only on Zee TV. And while everyone seems happy with Roshni's comeback, Ashlesha is certainly not on cloud nine considering the effort that went waste post the last minute swap!!
About Kasamh Se
Kasamh se is a story about three sisters who belong to a small town. Jai Walia, (played by Ram Kapoor) is a rich business tycoon who offers a shelter to the daughters of his father's friend and eventually goes on to marry the elder daughter Bani. This does not go too well with Jigyasa (Ashwini Kalsekar) who is staying in the same house with her husband. She is interested in her brother's property and thinks of Bani as a threat. After many twists and turns, the show takes a 10 year leap and we find a new Bani in the show in the form of Gurdeep Kohli who gets a new identity Pronita and is trying to recuperate her fallen memory. Jai Walia plays Meera's husband who is responsible for throwing Bani in the flames. Currently in the show, Jai Walia gets separated from Meera when he comes to know her reality and marries Pronita, the earlier Bani. Currently, on the show we see Jigyasa turning a new leaf and playing a positive character. She will help Bani in exposing Meera. On the subtrack, Ganga who was supposed to marry Pratyush gets a blow of her life, when she gets to know that he has run away with another girl. Finally she gets married to an ordinary guy called Rishi who is Bani's choice.
*******************************************
Fresh air on the sets of Banoo Main Teri Dulhann
Kamya's exit from Banoo Main Teri Dulhann, has got a kind of relief on the sets. Her co-actors are finally able to breathe. Kamya Punjabi was quite a terror on the sets and others (co-actor, unit & production guys) were….oh…are still scared to take her name even. It is said that she used to create an obnoxious atmosphere in the work area and unintentionally builds uncomfortable vibes within the co-actors. Divyanka who used to find it difficult to be in her company always used to make some excuse of her health problems every time and leave before the scheduled time from the sets. Off-late now that Kamya is not around she is more than willing to devote much more than required time on the sets. Kamya has taken a good long break from the show. She is off to USA for a holiday. Well… while she in on a break the other actors out here too are enjoying their break.
In the show Kamya 's exit in the show was very unusual. She gets shot by her own son, Bharat. Bharat plots a plan with Divya and Amar to give an end to her mother's evil deeds.
About Banoo Main Teri Dulhann
Dulhann is the story of this illiterate girl who has a fairy tale wedding but realizes that her dream has been shattered! She works against all odds… bears the wrath of her in laws only to find that her husband, Sagar (played by Sharad) rejects her as he is mentally incapable of accepting her in his life. Her sister in law Sindoora makes her an object to be ridiculed since Vidya is illiterate. Dulhann is the journey of Vidya to fight her destiny… to make her life and to get back the love of her husband, Sagar.
Recently the track went through a reincarnation episode where Sindoora plans and kills both her brother Sagar and his wife Vidya. But as love triumphs in the end, Sagar and Vidya are reborn as Amar and Divya and they meet and get married. Sindoora's plan falls flat when she gets to know this. She starts scheming all over again to put an end to the two lives who she hates. But as fate would have it, Amar and Divya fall in love again and get married to each other in this life as well. Divya's efforts pay off when finally she succeeds in recuperating Amar's memory that Sindoora was the one who had wiped out their existence from the face of this earth
MATA TRIPTAJI CHARITABLE TRUST®, CHANDIGARH
&
FRANKFINN ENTERTAINMENT COMPANY PVT. LTD.
JOINTLY & PROUDLY PRESENT
SAT SRI AKAL
A FILM ON LOVE & FAITH
Since decades, a void has been felt in the Punjabi film industry for such a classic film that truly represents our rich traditions of Punjabi culture, love and faith. This Cinemascope film project, Sat Sri Akal with digital Dolby sound is a sincere endeavor towards providing neat Family Entertainment propagating a way of life impregnated with rich heritage of true Punjabi culture, moral values, emotions, traditions and Sikh tenets.
A joint production of Mata Triptaji Charitable Trust (Regd.) Chandigarh, and Frankfinn Entertainment Company Pvt Ltd., Sat Sri Akal movie is a humble tribute commemorating 300 years of Gurta Gaddi Diwas of Sri Guru Granth Sahib.
Written by Arvinderjit Singh (Kittu) and directed by Kamal Sahni, the movie revolves around traditional values, love, sentiments, and colossal faith towards the Almighty God. Particularly, it tends to inculcate immense belief towards Sri Guru Granth Saheb Ji and the Gurbani enshrined within. For the first time, the "true to life" ambience of pilgrimage places like Sri Harmandar Saheb (Amritsar), Sri Hazur Saheb (Nanded) and Sri Bangla Sahib (Delhi) would be shown on 35 mm format.
It has a decent love story going through ups and downs of life, splendidly told amongst heart rendering Gurbani shabads sung by legends and foot-tapping songs. Music, a spell-binding and unique fusion of tradition and modernity, with 8 Gurbani shabads and 3 songs, all by celebrity singers, is one of the major highlights of the film. Three shabads in the soundtrack are rendered by the celebrated icon, Jagjit Singh in his soothing style. One shabad has been rendered by our beloved Ishmeet Singh (Late) as his first, last and only playback in any film. Though Ishmeet is not in this carnal world, his voice in Sat Sri Akal would continue to reverberate for ever across the universe. Other renowned singers embellishing the soundtrack with their melodious voices include Alka Yagnik, Sunidhi Chauhan, Abhijeet, Sadhana Sargam, Kavita Krishnamurthy, Krishna, Ravinder, Feroz Khan and Richa Sharma. The soulful music has been composed by Ravinder Singh.
The music of the Sat Sri Akal film was released last month at Ludhiana by Punjab Minister, Mr Bikram Singh Majitha, wgherin the parents of Ishmeet were also present. The website was launched by Deputy Chairman of Parliament, Charanjit Singh Atwal. Later, Audio music CDs were released by the legendry Music maestro, Jagjit Singh in New Delhi on 29th September. Jagjit Singh ji declared that the music of Sat Sri Akal movie, "After the movie 'Nanak Naam Jahaj Hai', this will be the second Super hit film because of its music and family entertainment remember able for decades.
The impressive star cast includes Kimi, the most established actress of the contemporary Punjabi Cinema. Manpreet Singh, a turbaned Sikh guy from Bollywood plays the male lead against Kimi. Key roles have been played by the established bollywood actors like Arun Bali and Dolly Minhas, besides Avtar Gill, Manmeet Singh, Vivek Shauq, Neelu Kohli, and Nirmal Rishi. Pooja Tandon and Sonpreet are the promising newcomers making their maiden appearance in a mega film.

Slated for worldwide release, Sat Sri Akal is likely to hit the theatres all over the world in October 2008. The Cinemascope 35 mm movie with Digital Dolby sound is bound to enthrall audience with rich blend of a gripping heartfelt story, memorable performances, mellifluous music, celebrity voices and rich production values. The film shall set new benchmarks for filmed entertainment in Punjabi language.
Besides a good and captivating story, the Punjabi folk, good humour, romance-sans obscenity-picturesque locales, have been imparted tremendous significance in the film.
ABOUT MATA TRIPTA JI CHARITABLE TRUST®, CHANDIGARH
Named after the holy mother of Guru Nanak Dev Ji, the said Charitable Trust was established in 1999 with the sole purpose to serve the humanity particularly the poor, sick and the underprivileged. Based on the principles embodied in Gurbani, the Trust has been providing free medical care, dental care and diagnostic facilities to the poor. The Trust is a nonpolitical social organization of selfless, religious and literate individuals settled in India and abroad, who contribute their daswandh (i.e., one-tenth of monthly earnings) to fund various Trust activities.
The current big movie project of "Sat Sri Akal" is sequel to the splendid success of the Punjabi tele film, "Sada Chir Jeevo" produced by the Trust in 2003. Trust has plans to produce more such films offering neat family entertainment, highlighting social ills and propagating Sikh tenets. Every single penny earned out of this movie project will be utilized only for the welfare of the downtrodden and such righteous tasks.
Artists: Kimi Verma, Manpreet Singh, Arun Bali, Dolly Minhas, Avtar Gill, Vivek Shauq, Nirmal Rishi, Manmeet Singh, Neelu Kohli, Pooja Tandon, Sonpreet, etc.
Singers: Jagjit Singh, Alka Yagnik, Abhijeet, Sunidhi Chauhan, Kavita Krishnamurthy, Sadhana Sargam, Ravinder, Krishna, Richa Sharma and LATE ISHMEET SINGH
Director: Kamal Sahani
Writer: Arvinderjit Singh (Chief Trustee, MTJC Trust)
Cinematographer: Inderjit Bansel
Screenplay & Dialogues: Vijay Tandon
Lyricist: Babu Singh Mann
Music Director: Ravinder Singh
Choreographer: Bhupi (Bhupinder Sayan)
Exec Producer: Dr Bhupinder Singh Bhoop
Prodn Controller: Satbir Singh
Audiographer: Narinder Singh
Editor: Satish Handa & Nissar
Film Processing: Film Lab, Mumbai
Audio Recording: BR Recording & Dubbing Studio, Mumbai
__________________________________________________________________

ABOUT MATA TRIPTA JI CHARITABLE TRUST®, CHANDIGARH
Named after the holy mother of Guru Nanak Dev Ji, the said Charitable Trust was established in 1999 with the sole purpose to serve the humanity particularly the poor, sick and the underprivileged. Based on the principles embodied in Gurbani, the Trust has been providing free medical care, dental care and diagnostic facilities to the poor. The Trust is a nonpolitical social organization of selfless, religious and literate individuals settled in India and abroad, who contribute their daswandh (i.e., one-tenth of monthly earnings) to fund various Trust activities.
The current big movie project of "Sat Sri Akal" is sequel to the splendid success of the Punjabi tele film, "Sada Chir Jeevo" produced by the Trust in 2003. Trust has plans to produce more such films offering neat family entertainment, highlighting social ills and propagating Sikh tenets. Every single penny earned out of this movie project will be utilized only for the welfare of the downtrodden and such righteous tasks.

ABOUT FRANKFINN ENTERTAINMENT COMPANY PVT. LTD.
Frankfinn Entertainment Company Pvt. Ltd. is a venture of Frankfinn Group. Frankfinn Institute of Air Hostess Training-World's No.1 Air Hostess Training Institute, which has earned a place in the prestigious Limca Book of Records for highest cabin crew placements-8 times more than any other air hostess academy in the line in India. With largest network of centers comprising of 115 centers in 95 cities in India, it has launched its first international centre in Dubai too.
Frankfinn entered the arena of music in 2005 with its first home entertainment release in 2007. With several successful releases in a short span, Frankfinn has established itself as a name to reckon with in the field of music and home entertainment. While the label is known to promote new talent, it remains committed to its promise of bringing quality across various genres to its audiences in India and the world over. Whilst it will continue its foray into music & home entertainment, Frankfinn Entertainment Company Pvt. Ltd. is proud to present its first joint feature film production, "Sat Sri Akal". Frankfinn has plans to venture into Hindi feature film production and will be announcing its first Bollywood venture very soon.

SWEET AMERIKA DIRECTOR INTERVIEW
An interview with Sweet Amerika co-writer/director/producer R. Paul Dhillon
Here is the Q&A:
----------------------------------------------------------------------------------------------------------
"What drives me is my belief that I can make it happen even if the whole world seems to be ganging up on me. There were so many hurdles, so many set backs, so many detractors, so many bull-shitters and assholes trying to fuck things up along the way but I refused to give up. Completing Sweet Amerika and releasing it is truly Sweet Satisfaction for me."
Excerpt from an interview with R. Paul Dhillon
-----------------------------------------------------------------------------------------------------------
Q: How many films have you made so far?
R. Paul: Sweet Amerika is my first dramatic feature. I have made two documentaries - Saint Soldier (Producer) for Canada's CTV network and The Bhangra Generation (Writer/Director/Producer) - which made its broadcast premiere in Canada on September 3, 2008 on the Rogers OMNI stations. It features international Bhangra star Jazzy B. and others. I have also produced for CTV a South Asian variety show called Planet Aaj, along with numerous music videos for both Indian and non-Indian artists in Canada as well as commercials and educational videos. Most of my work has touched on the South Asian immigrant Diaspora.

Q: Tell us something about the film Sweet Amerika?
R. Paul: I wanted to do a low budget film and this story really fit the bill. The film is about a Sikh grocery storeowner Bobby Singh who gets kidnapped by four American "Patriots" who seek reprisals following the 9/11 attacks. The idea for the film came from Montreal-based French-Sikh writer Jessi Thind, who has authored a number of books, including one on the passengers of the doomed Komagata Maru ship called Lions Of The Sea. I completely reworked Jessi's script into Sweet Amerika, which retains the spirit and flavour of the original script but is quite different - you could say much harsher. The world really became unhinged following the attacks and that's the perspective I wanted to give. I'm not sure that I succeeded but I gave it all that I had.

Q: Incidentally, why "Amerika" and not "America"? Any special significance?
R. Paul: The reason we put in a "K" instead of a "C" in the title is to distinguish it from the usual way of spelling it to draw interest and curiosity. Also the original title had three Ks in it like "Amerikkka" to give it the reference to the racist American organization known as the Ku Klux Klan in the Midwest. We decided to go with one K in the final title. Someone also suggested that many non-English speaking immigrants from India pronounce it with hard K sound so it works on a number of levels.

Q: Why did you choose "Bollywood Badman" Gulshan Grover for the role? What about him made you feel that he would fit the bill totally?
R. Paul: We were interested in a number of Bollywood's veteran actors like Om Puri, Kabir Bedi and so on but in the end Gulshan fit the character best and he has done a great job given our modest budget. He brought a real collaborative spirit to the project and helped me shape his character of Bobby who is a righteous, generous and easygoing individual who has been emotionally scarred from a personal tragedy. Sweet Amerika being my first film - it was great to have someone like Gulshan with his immense experience to make our rocky shoot somewhat smooth. I also credit my friend and collaborator Kristopher Gee who has not only done a great job editing the film but has also done a great music score for the film. Kris and I, along with our friend Richard Ii, were a team on our second year SFU short that went to the Montreal Student Film Festival. I'm glad that Kris and I had the opportunity to collaborate again.

Q: Why did you become a filmmaker and what drives you?
R. Paul: Filmmaking has been a passion and dream of mine since I was a child growing up in Punjab, India. My mom used to take me to watch films in the theatre. I remember watching these larger than life stories, thinking this is what I want to do with my life. It was only a dream, which I didn't take very seriously but some dreams have a way of coming true and with the release of Sweet Amerika - that dream has been fulfilled. I credit my family's move to Canada when I was 10-years-old for this. Along with so many things that Canada has given me - it has given me the opportunity to go pursue my passion and dream by going to film school and then take that knowledge and apply it to making films. What drives me is my belief that I can make it happen even if the whole world seems to be ganging up on me. There were so many hurdles, so many set backs, so many detractors, so many bull-shitters and assholes trying to fuck things up along the way but I refused to give up. Completing Sweet Amerika and releasing it is truly Sweet Satisfaction for me.
Q: What's next for you?
R. Paul: Making Sweet Amerika has been a great education, learning A to Z of what it takes to get a film to market so that all the toiling and hard work can finally be seen and judged by the audience. And it certainly would be a shame if I didn't apply that knowledge to making more films. I have a number of completed scripts but I'm focusing on a project set against the backdrop of South Asian gangs in Vancouver. While many people are working on gang theme projects - I believe my film will be a definitive film on what has certainly become an epidemic of lawlessness and bloody murder. My film is not necessarily a gang film per se but a powerful family drama set against this violent backdrop. I hope this time it will be a much smoother sailing but I'm prepared for the worst.
Q: How do you manage so many roles, that of a newspaper editor, screenwriter, film producer, director?
R. Paul: I have been working as a newspaper journalist in Vancouver, Canada since 1990. I began writing Hollywood/Bollywood movie reviews for the LINK and other newspapers when I was in my last year of University. I graduated from Simon Fraser University with a degree in Communications and a minor in Film.
It truly has been a hectic experience juggling journalism and film production work but I love them both equally and have a great passion for them. Screenwriting and journalism complement each other as they both utilize and help develop my writing skills. I'm first and foremost a writer and director. The producer role is sometimes forced on the artist because by making a project happen - he is automatically thrust into the producer's role. I have learned to be an efficient producer, which in small budget productions is a must-have if you want to complete the project on time and on budget. One of my film teachers told me long ago that I would make a good producer based on the work I created in film school so I guess it was bound to happen. It's difficult juggling all these roles related to my film and journalism work but if I didn't nourish it and enjoyed it - I wouldn't do them.

DR. DALIP KAUR TIWANA- A LEADER OF PUNJABI NOVEL

by Dr Amarjit Tanda*

Dr Amarjit Tanda with DR. DALIP KAUR TIWANA
Whenever you visit Panjabi University of Patiala, near guest house and at the end of many kothis, you will see a house full of novels and short stories. Even if you enter in without ringing a bell, you will see a little curbed literary lady full of words cheerfully greeting you. She is Dr. Dalip Kaur Tiwana a universally regarded as one of the leading Punjabi novelists of today who has published twenty seven novels, seven collections of short stories, the first part of her autobiography and a literary biography. She has won awards, both regional and national, and is widely translated author.
I was campaigning for her in a different way, meeting friends, phoning them to vote for Dr Tiwana. I met her by talking on phone for the first time as she was the Presidential candidate this time for the Punjabi Sahit Academy Ludhiana. I told her that I have come to see you from Sydney, Australia and have my full support for your candidature along with my friends Dr Patar,Prof. Tasneem and others and wish you all the best for this success. She said to me, 'Amarjit, Juonde raho (Live long) and said I think you have come to India for this purpose and thanked me in advance." During my recent visit to Patiala, I also went to greet the great writer especially on her election as the President of the Punjabi Sahit Academy Ludhiana. She offered us Laddoos & many other sweets with masale vali chah.
Short after our visit, a renowned Entomologist Dr Swai Singh entered in with his wife and greeted her. During tea break he asked Dr Tiwana, which is your birth place. She said Pind Rabbon ji. Dr Swai Singh again said accha ji tusi Rabbon ho (from God). The room was full with laughter.
She was telling that the woman writers of today do not understand the difference between revolt and deviation. They talk of revolt as a means of taking a step forward but do not know whether it will benefit their cause or not. Writers have made literature a system through which they justify their own views. There should be a fine balance between action and contemplation. Literature has become a means through which personal ambitions of money, property and promotions are achieved.
Another thing that afflicts our society is the end of role models. We no longer have people of substance, which has demoralised the coming generation. Culturally we have become orphans, with the family set-up breaking, she told. It is due to this degeneration of culture that we get this shabby treatment. The need of the hour is the protection of the soul for which the entire world can be sacrificed, she was telling like a story.
Getting first class first M.A., and in 1963, the first woman in the region to get the Ph.D. degree from Punjab University. Dr.Tiwana joined the Punjabi University at Patiala, as a Lecturer and then went on to become Professor and Head of the Department of Punjabi and Dean, Faculty of Languages thus she had a distinguished academic career. She was a brilliant teacher and researcher and made significant contributions to literary and critical studies in Punjabi. She was also a UGC National Lecturer for a year. Born on May 4, 1935 in district Ludhiana in a well-to-do land-owing family, she was educated at Patiala where her uncle, Sardar Sahib Sardar Tara Singh Sidhu was Inspector General of Prisons.
I have faced problems because I am a woman. When I entered the field of literature, there were few women in it. However, I was fortunate to get good guides. I write one novel a year and complete the work itself in five days after the idea comes to my mind. I took to Punjabi after my teacher, Pritam Singh, read out my test report in which I got two marks out of a total of 10. I felt instigated enough to say I would come first and started working even harder after the death of my uncle, who had adopted me, a short while later. I eventually stood first in the class she told.
In 1961, with the publication of her first book of short stories Sadhna, Dr.Tiwana's literary career as a creative writer commenced. The Department of Languages, Government of Punjab declared Sadhna as the best book in its genre. Before switching over to novel-writing, she produced seven collections of short stories in which art-form she was destined to achieve great eminence. In 1972, her second novel Eho Hamara Zeewana won her the Sahitya Akademy Award. Thereafter, virtually every one of her works won her an award. The Ministry of Education and Social Welfare honoured her book of stories for children called pa11jan IJiCh Parmeshwar in 1975, while the Department of Languages, Government of Punjab, conferred the "Nanak Singh Puruskar" on her novel Peele Patian di Dastan in 1980 and "Gurmukh Singh Mu safir Puruskar" on her autobiography Nange pa rion da Safar in 1982.
Awards and honours have flowed from outside the Punjab as well in to kothi No.13 many times. The International Association of Punjabi Artists and Authors (IAAPA) based in Canada honoured her with an award in 1985. "Nanjanagudu Thirumalamba" award for her novel Katha Kuknoos Di came from Shashwathi, Karnataka and in 1998"Vagdevi" award for Duni Suhava Bagh was given by Bhartiya Bhasha Parishad, Calcutta.
In 1987, for her outstanding contribution to Punjabi literature, Dr. Tiwana received the "Shiromani Sahityakar" award from the Punajb Government, the "Best Novelist of the Decade" award from Punjabi Academy, Delhi, in 1994 and the "Kartar Singh Dhaliwal" award from Punjabi Sahit Academy, Ludhiana. On the occasion of the Tricentenary Celebrations of the Birth of the Khalsa at Anandpur Sahib in 1999, She was among the distinguished Sikh personalities who were honoured.
Doordarshan has also telecast a few serials based on her writings. Many of Dr.Tiwana's short stories and novels have been translated into Hindi and other Indian languages, and English. Such is her Fate (Punjabi University), Journey on bare feet (Orient Longman), Gone are the Rivers (Macmillan) are some of the English translations, which are readily available. The Tale of the Phoenix (Ajanta) translated by Nikky-Guninder Kaur Singh and Bhupinder Singh and Elizabeth Siler of the USA will soon be out. Urvaslu is being rendered into English by Prof Jasbir Jain. Khushwant Singh, Jai Rattan and Danielle Gill from Paris are some the other translators of Dr. Tiwana's works.
Doordarshan has also telecast a few serials based on her writings. Doordarshan has also telecast a few serials based on her writings. She has played important roles in distinguished bodies, both academic and literary. Currently, she is associated with the Sahitya Academy (Delhi), Punjab Arts Council (Chandigarh), Punjab Sahit Academy (Chandigarh), Punjabi Sahit Academy (Ludhiana), National Book Trust of India, Bhartiya Janapith, K K. Birla Folmdation, Kendn Punjabi Lekhak Sabha in various capacities. She is President of the Punjabi Sahit Academy, Chandigarh and Life-Fellow auld nominated Senator of the Punjabi University.
Dr.Tiwana has moved from a preoccupation with gender issues to intellectual contemplation of fundamental human problem over the years, and from there to spiritual transcendence. While negotiating the problems of life and death, tradition and modernity, men and women, towns and villages in her works, she remains committed to the Indian spiritual and ethical vision. One could say of her that she combines European energy with Asiatic calm in her life and thought.
She visited several countries to preside over or participate in important international conferences during the course of her career as writer and academician. She chaired sessions at the International Punjabi Conference held in U.K. in 1980, participated in International Writing Together anal Women in the 20th Century held in Scotland in 1990 and in 2000, presided over an international literary meet organised by California Sahit Sabha in the U.S.A..
There is thematic and formal variety in her writings. Her language in particular is spontaneous, lyrical and compressed to the point of being a marvel of economy and elegance. Dr.Tiwana is the leading, most productive and most popular Punjabi novelist of our Ages by common or general consent. She has been engaged in creative writing without any major interruption for the last forty years or more. She also presented me with a novel and gave us a snap.

What Happened 30 years ago on Vaisakhi?
Written by Gurjit Singh Walia , Leicester -- U.K.

On the 13th April 1978 the Sikhs gathered together from all over India in Amritsar to hold their annual Vaisakhi Samagam. Kirtan had started during the early hours of the morning and about
10'o'clock word had got out that the followers of Nirankari Sect were holding a procession in Amritsar and were shouting slogans against Guru Granth Sahib Ji and insults towards the Sikh religion. They called Shri Guru Granth Sahib ji a bundle of papers, and they referred to Kar sewa as Bikar sewa. The Nirankari leader had made statements that '' Guru Gobind Singh ji had made Panj Pyarai, but he will make seven stars''. When a Bhai Fauja Singh heard the news from the loud speakers he rushed to the congregation and delivered a short speech explaining the dire situation. Soon after, Bhai Fauja Singh and others went to Guru Ramdas Niwas.
Upon reaching Guru Ram Das Niwas they had found the procession had finished. The Sikhs then decided that they should go to the place where the Nirankaris had gathered and do a peaceful protest against the insults. Some Sikhs reached the Reego Bridge near Gobind Ghar, where they were stopped by the Police authorities. The Sikhs told the Police about the insults being shouted at their Religion in the procession and at the gathering which was taking place at the time. These insults could still be heard clearly from where they were standing. They told the Police that they wanted to protest against this. A police officer told the Sikhs that he would go and stop the Nirankaris and for them (Sikhs) to stay put. The Sikhs waited for 30minutes for Police the officer to return, on his return there were more Policemen with him. Joshi DSP told the Sikhs to go back and that the meeting had finished a long time ago. But at the time heretical speeches could be heard on the loud speakers. Hundreds of uniformed Nakali Nirankaris then rushed towards the Sikhs with guns, spears, swords and within seconds the Sikhs were attacked with Police presence. The Sikhs that were hit with bullets fell on the ground and were then butchered with swords, spears and axes. When the ground became covered with bodies with the dead and wounded, the Police fired tear gas, but even that was towards the Sikhs, so the Nirankaris received even more help and the Sikhs received more injuries. In this massacre 13 Sikhs were killed and more than seventy wounded. The funeral of the 13 Sikhs took place on Saturday 15th April 1978 at Gurdwara Ramsar Sahib in front of a large congregation of about 30,000 people. All the 13 dead were cremated together.

If asked what is the greatest Sikh relic in existence today, few people would suggest a musical instrument. Yet, the Rebab of Guru Gobind Singh qualifies strongly for this title. To start, the musical tradition of gurbani (religious writing) ties the instrument directly to the center of the faith -- Sikh prayers are done as vocal music and written in standard musical modes (scales) of North Indian classical music.Further, this particular item is the only known musical instrument from the time of the Gurus that is still intact. We know that Guru Gobind Singh himself played this rebab, making this a particularly valuable and rare find. The Guru gave the instrument to Maharaja Sidh Sen of Suket Mandi (located in today's Himachal Pradesh) as a gift. The rebab was later donated to the Sikh community and is currently housed at the Sri Guru Gobind Singh Gurdwara of Mandi. Unfortunately, none of this information is available on site and most of the visitors are local residednts. Fortunately, the Gurudwara is only a short walk from the main bus station and easy for outsiders to find.
The instrument connects us with a past that is quickly being forgotten. Less than a hundred years ago the rebab was in common use in Gurdwaras (place of worship). But today, few Sikhs have ever heard kirtan (musical religious recitation) performed on one. Kirtan is now performed on the harmonium, a British instrument. The single-stringed rebab (also known as a rebec or rebek in the West) is referred to in literature of India, Persia and even in Arabic poetry. It is still in use today in derivative forms from the Middle East to South East Asia. It may even be the predecessor of the modern violin.
But even without its legendary past, this rebab is also a priceless piece of Punjabi art given its history and significance to the community of its time. Sikh religious music has inspired its followers for 500 years, featuring the rebab since the beginning. Currently, the few efforts to revive the rebab's legacy have gone slowly because very few musicians still use one.
Source: J Bhangu, Edited GSWALIA UK

Born and brought up in the UK, Mayers, a priest of Haywood Ticktoria in Australia, is here as part of a 12-member delegation. "Visiting the scene of the firing, I was moved by the well into which scores of people jumped during the massacre. The bullet marks are still intact on walls. My heart is filled with remorse and I hang my head in shame," he said.I apologise for the British army's act during India's struggle for Independence. Inside the memorial, I got the feeling as if I was at a holy place."
The delegation from Australia, led by Dr Robert Boss, is here to participate in a seminar on communal harmony organised by Guru Nanak Study Department of Guru Nanak Dev University here.
Growing religious fanaticism across the world that had sparked violence in some countries was the topic of the seminar. More interaction among people from different religions was emphasised. Bishop Pradeep Kumar said though history couldn't be undone, kind words of Mayers would gave solace to those who had lost their dear ones in the massacre.
Danial B.Das, coordinator, socio economic development programme, said there were still certain countries in the world occupying areas without the wish of the local people and it needed to be condemned.

Every wall that was torn down by Sikh Authorities was a witness to the deeds in that sacred house, every brick that crumbled and had been chucked in to the trolleys of tractors and then dumped, had absorbed each word that Bebe Nanaki uttered. One could have stood and closed one's eyes and almost heard the conversations and voices spoken over Five hundred years ago. However, how sad that if you try to mimic this action now the only dialogue you may hear would be the voices of conspirators hatching the next plan of obliteration of Sikh heritage.

Hi my name is Zora Singh and I am 11 yrs old, I go to Bushloe High School.
I LIVE IN LEICESTER IN U.K.
I wrote the above poem in school and the teachers liked this poem so much that they help me publish it in a book.
The book is called LITTLE LAUREATES verses from Leicestershire,
This book can be bought from any good book shop in England.
I hope you like my own little story, THANKYOU!